Our cricket feed is composed of all natural ingredients grown and milled in the USA. Feed your crickets our diet, high in protein, fiber and calcium.

Cowboy Crickets is leading the nation in crickets for human consumption. Why? It all starts at the feed. Using an all natural high protein feed from day 1 allows our feeder crickets to be raised for human consumption, with no need for any gut loading or special processing to be ready for eating.
As the Lead Farm for Cowboy Crickets Partner Farmer Network - we here at The Cricket Ranch use this feed for all of our crickets in house. The feed was developed by Cowboy Crickets with grants from multiple agencies and support by Montana State University Entomologists to ensure excellent nutrition for the crickets, and their future diner (human or pet)!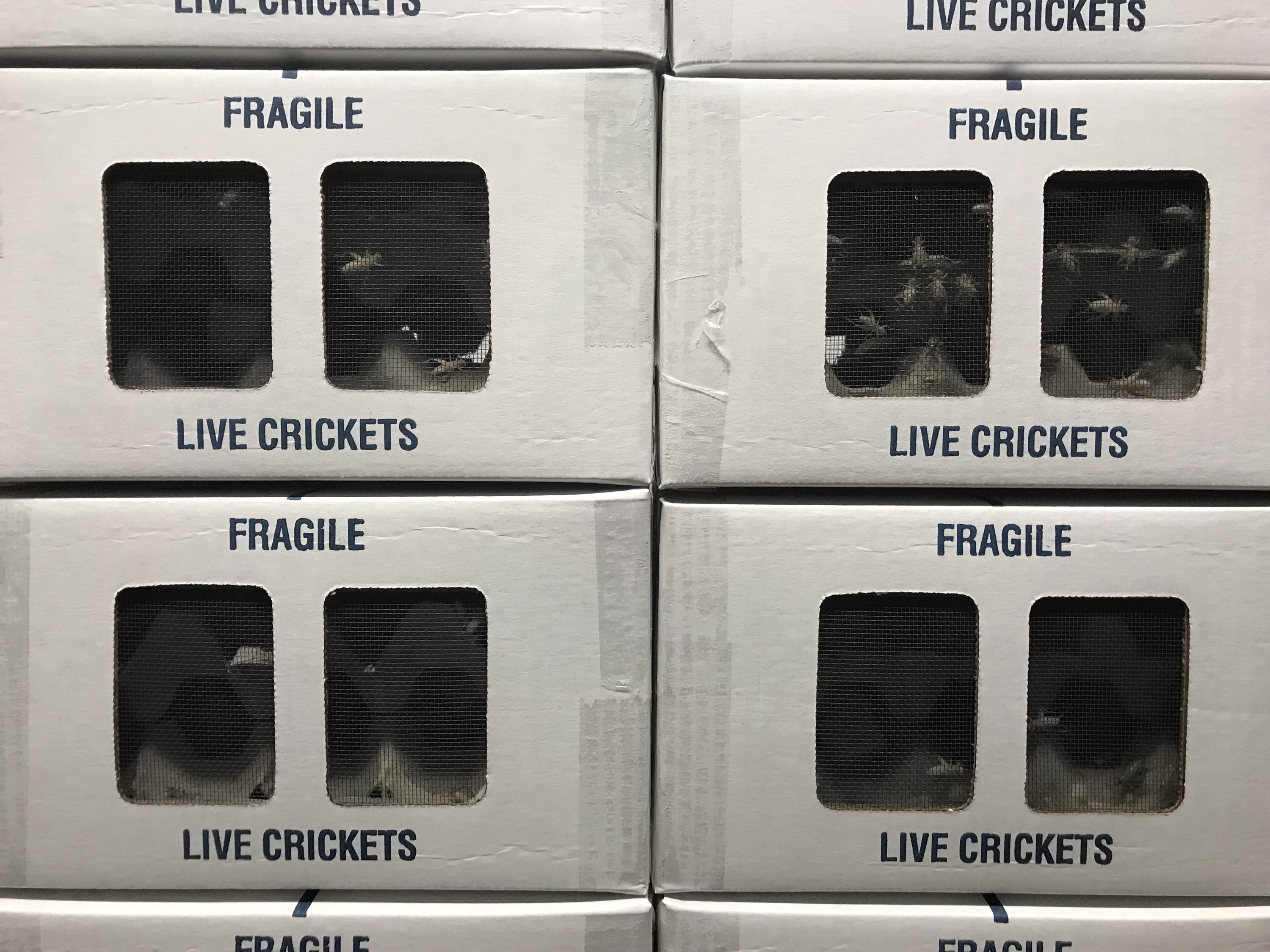 A Feed Subscription? YES. You can place an order and have it repeat as often as you need, or would like! If you're a cricket eater, or have a pet that is a cricket eater, you can subscribe for your live feeder crickets as well!
Running a small scale cricket breeding box at home? Amp it up with our feed, and get those crickets chirping louder, bigger and stronger than ever.
We use this feed on our Ranch for all of our crickets, from pinheads to adults. They love it, and yours will too!
We have setup a robust shipping selection tool, so that you can choose the speed and cost of shipping feed to your door.
EXPRESS DELIVERY AVAILABLE
If orders are placed before noon (Mountain Time), we can have the feed shipped to your door in 24 hours. Select overnight delivery when checking out.
Customer Reviews
03/09/2019
John D.
United States
Feed
Checked on the current crickets they seem to have taken to it. Thanks John
FREQUENTLY ASKED QUESTIONS
What Ingredients are in your feed?
Because this feed is a proprietary blend, developed by our partner farming network (Cowboy Crickets), the exact contents are private. We can tell you that the mix contains: Wheat, Alfalfa, Camelina, and Barley - among other minerals and oils. Everything is grown and milled in the USA.
How fast will my feed get to me?

We ship to all lower 48 states (working on more soon) - and you get to pick the speed and courier that you would like when you checkout. We work with USPS, UPS, FedEx and more are coming soon.
** Currently we do not ship internationally.
Yes! We take PayPal, and all major credit cards. We are even working on taking larger market share cryptocurrencies!
Will this feed be suitable for all cricket ages?

Yes. This feed is milled to a medium fine consistency, and can be ingested by all instar of crickets. We are developing a specialized finely milled feed exclusively for pinheads, and will have this as an option soon.
How much do I feed my crickets?

The amount of feed that is required is dependent upon the age of the crickets, and the size of your enclosure / number of crickets. We use roughly 1/10 pound of feed per enclosure per day - and our enclosures have between 15-20,000 crickets each.